Bose vs Beats! Bose QuietComfort QC25 vs Beats Studio Comparison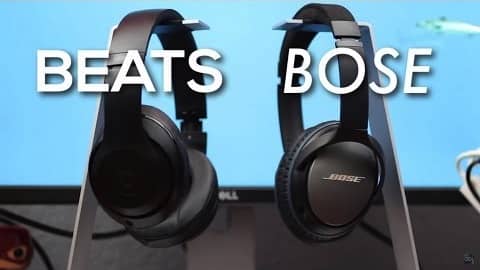 Order the Bose QuietComfort 25 or Beats Studio Wireless HERE for the lowest price available (Do NOT pay retail!):
Disclosure: Affiliate links on this page may provide a discount and in return, give us commission in order to run the website 🙂
Bose QuietComfort 25: http://amzn.to/1S6ew6x
Beats Studio Wireless: http://amzn.to/1JhKsyy
Today, we're comparing the two biggest names in the headphone market: Bose vs. Beats. In the Bose corner, we have the top-of-the-line QuietComfort 25. In the Beats corner, we also have their top-of-the-line Studio Wireless. Both of these headphones represent each company's best offering, and they have the noise-canceling, style and portability perfect for daily use. Stay tuned to find out who wins in this clash of the titans battle.
Hey whatsup guys, ODi Productions here from RecordingNOW.com with an in-depth comparison review video. Considering the fact that Bose and Beats already dominate the headphone market, neither brand needs an introduction. But before we jump into the comparison, I need to make a small disclaimer.
Now the goal of this comparison video is to help YOU make the right purchase by presenting all the facts without any of the hype or negative bias. No doubt, some people may see both of these brands as overpriced marketing hype, and while there is truth to that, it doesn't change the reality that these are 2 of the best-selling headphones out right now. So whether you think they're overpriced or not, a lot of people love these products and will continue to buy them due to brand appeal. Also, comparing headphones based on sound quality alone, is like saying a Mustang is better than a Lexus because it's faster 0-60. You're forgetting about features, comfort, style, portability, and all the other qualities that people should consider.
With that said, we're going to run through all the possible categories and choose a winner from each, then at the end we're going to reveal our overall winner which represents the best value for the money.
1. Features + Practicality
As far as features and practicality is concerned, both of these headphones are great. They're pretty similar in that they're both over-ear headphones with active noise-cancelation that blocks out real world noise around you, allowing you to hear your music in full detail even in a crowded area.
Since both headphones have this active noise-cancelation feature, they both need battery power, which is where they differ. The Beats headphones are powered by an in-built rechargeable battery that you can charge via USB much like a smartphone. The Bose on the other hand, is powered by a single AAA battery. Now I'm pretty indifferent as to which is better, but Bose owners say that the traditional battery setup is much better for frequent traveling since you can conveniently just swap them out.
Battery life is excellent for both headphones, although the Bose lasts longer on its AAA versus the Beats on a single charge.
In addition to noise-cancelation, both headphones fold up and come with a hardshell case to save space so you can throw into your bag.
Now there is one feature which does give the Beats a leg up, and it's Bluetooth wireless compatibility. The Bose QuietComfort 25 is strictly a wired headphone, and although Bose does offer a wireless headphone called the Sound Link 2, it doesn't come with noise-cancelation and has inferior sound quality to the QC25.
The wireless performance of the Beats studio is identical to its wired performance, due to advances in Bluetooth technology.
As far as features and practicality goes, both headphones are near identical except for the Bluetooth wireless capability of the Beats, which gives it the edge for this category.
2. Noise-Cancellation
You're probably wondering which headphone is better at noise-canceling, and this is a category where there is a clear difference. Noise-cancelation has always been the bread-and-butter of Bose's headphones since the QC15, which is the predecessor to today's QC25, and it shows in this comparison. Immediately after flipping the on switch on the Bose, outside noise cuts down by a good amount, even without any music playing. Start playing some music and the world seems to disappear around you.
In contrast, the Beats noise-cancelation only really takes effect when music is playing at a moderate volume. Even then, you can still hear some outside noise in the background. Also, when music isn't playing, the Beats create a very audible hissing noise that gets pretty annoying, whereas the Bose doesn't have any hiss.
So for noise-cancelation, Bose puts the Quiet in QuietComfort.
3. Style
Style is inherently subjective, although both of these headphones are sleek enough to rock in the real world and look cool while doing so. Bose moved away from the silver earcups of the QC15 and redesigned the new QC25 to look more modern and stylish, now coming in a variety of colorways.
On the other hand, fashion has always been a strength of the Beats brand, and the redesigned Studios are no exception. Coming in a variety of glossy and new matte finishes, the Beats Studio are a beautiful headphone, especially in this matte black colorway.
For style, it's a close one but we're going to give the edge to the Beats for the beautiful design.
4. Durability
Durability is the category which I believe both of these headphones struggle in, and is probably their weakest aspect aside from price. Both of these headphones are made almost completely out of plastic, and they feel a little cheap to the touch.
For a little peace of mind, each headphone does comes with a limited 1-year warranty for any mechanical defects, so if they just randomly die on you or stop working, then they'll be replaced free of charge.
For durability, neither headphone is impressive, which makes this a draw.
5. Comfort
Comfort is the category that should never be overlooked considering that you'll be wearing these on your head for hours every single day. Both of these headphones classify as comfortable compared to the average headphones, but this is another category where there is a significant difference between them. You can wear the Beats for about an hour before they start to cause discomfort, and they also make people's ears a little warm. In contrast, you can barely feel anything on your head when wearing the Bose, which weighs a bit less than the Beats and applies very little clamping pressure. Obviously, Bose even puts the word "Comfort" in the name, so they clearly made it one of the biggest priorities when designing the QC25.
For Comfort, true to its name, the Bose QuietComfort wins again.
6. Sound Quality
Now for the biggest category for most people, the sound quality. Let me start off by saying, that both of these headphones can provide an enjoyable listening experience, but they are completely different in sound signature. So a lot of this is going to be based on what music genres you listen to, and since everyone likes different music, others might prefer one over the other.
So let's start with the Beats. Right off the bat, the Beats are much louder at the same volume thanks to a built-in headphone amp which boosts the volume to create a more powerful sound. The sound signature of the Beats is classic V-shaped, focusing on bass and treble, while leaving out the mids. The result is a headphone which is exciting to listen to, as it pushes the bass and vocals right up front and in your face, narrowing the soundstage. Considering the emphasis on bass impact, it's no surprise that Beats excel for modern music such as hip-hop, pop, and EDM.
In contrast, the Bose has a much more relaxing sound signature that is more balanced with a wider soundstage. While the Beats sounds very up front, vocals are pulled back a bit on the Bose and not as much in your face. The result is a sound which is very ple asing to listen to and not as fatiguing over longer listening sessions. The better balance of the Bose reveals other details in the song which may get covered up by the bass of the Beats.
In short, if you listen mostly to modern music and really want to feel the music, then the Beats gets the edge. But if you want to just listen to music of all genres for hours of listening pleasure, then the Bose has the better overall sound quality.
7. WINNER
It's a little ironic to be discussing value when talking about $300 headphones but we still have to consider it.
So the Beats Studio Wireless once retailed for a whopping $379, but have since dropped down in price to around $240-260 for a brand new pair today.
The Bose QuietComfort 25, on the other hand, has held steady at its price of $300.
So essentially, the Beats are $50 cheaper and come with Bluetooth wireless. But is that enough to provide the better value in this comparison?
Unfortunately for Beats, we don't think so. For our overall winner, we're going with the Bose QuietComfort 25 as it excels in noise cancelation, comfort, and sound quality. The QC25 shows that few headphones can compete with Bose's excellent noise cancelation, and the sheer comfort and sound quality provides hours upon hours of enjoyable listening.
If you're interested in picking up either of these headphones for the lowest prices mentioned in this video, click the links in the description below to get your pair at a discount so you can save dat money.
Order the Bose QuietComfort 25 or Beats Studio Wireless HERE for the lowest price available (Do NOT pay retail!):
Bose QuietComfort 25: http://amzn.to/1S6ew6x
Beats Studio Wireless: http://amzn.to/1JhKsyy
Related Posts