Beats Studio 2.0 Wireless Headphones: An Honest Review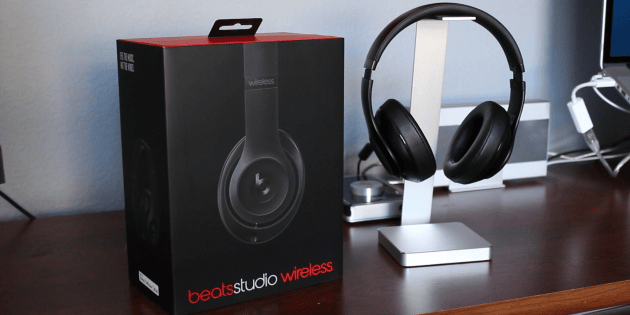 Order the Beats Studio 2.0 Wireless HERE for the cheapest price available (Do NOT pay retail!):
Disclosure: Affiliate links on this page may provide a discount and in return, give us a commission in order to run the website 🙂
Beats Studio Wireless Bluetooth Headphones: http://amzn.to/1JhKsyy
Hey what's up guys, ODi Productions here with the latest version of the Beats Studio Wireless. Now, there is a lot of controversy surrounding the Beats brand, some people love them, and some people absolutely hate them. With that said, I feel like it is my duty to provide you guys with a brutally honest review, so you guys can make the right purchase. Stay tuned.
The Beats brand needs absolutely zero introduction. If you've watched a hip-hop or pop music video in the last few years, or a blockbuster movie like that awful Transformers 4, or even just turned on the TV, chances are you've seen a pair of Beats headphones or some Beats speakers like the Pill. Make no mistake about it, Beats absolutely dominates when it comes to marketing, and frankly, I'm pretty sick of seeing the brand everywhere.
Now, as a response to the overwhelming success of the brand, many tech reviewers have voiced a consensus opinion that Beats products are overpriced and terribly-performing fashion statements, and for the most part, I agree with them, especially after listening to a pair of the original Beats Solos that came out around 2009. You couldn't pay me to use those headphones. The bass was unbearably muddy and sounded like you were listening to everything through a blanket.
Now, a lot has changed since 2009, notably Beats' separation from the original partner company Monster, eventually leading to Beats being bought out by Apple in 2014. A year before Apple bought the company out, Beats released a revised version of all of their headphones, most notably the Beats Studio 2.0s.
Today I'll be reviewing the Bluetooth version of the revised Beats, and let me start off by saying that they are a gigantic improvement over the originals.
Now that we're done with that history lesson, let's jump into the review!
1. Features + Unboxing
The vast array of Features of the Beats Studio Wireless is easily the greatest strength of these headphones, which I think a lot of people overlook and instead only focus on sound performance.
The most important distinction is that these are Bluetooth headphones, meaning no wires, and no clutter. The wireless feature alone should really divide buyers into two separate camps, ones looking for a more futuristic, cable-free device, and others just looking for a traditional pair of wired headphones. You can definitely find better performing wired headphones (such as the V-moda Crossfade M100s), but the competition in the relatively new Bluetooth headphone arena is much less competitive.
Along with the Bluetooth connectivity, the Beats Studios also feature Active Noise Cancellation which once again, should divide buyers into two markets. On one hand, you have the Beats which are Bluetooth wireless and have noise cancellation, while most traditional headphones are wired with no noise cancellation. These two features alone make the Beats Studio Wireless a much better daily use headphones for people who want to listen to music outside while either walking to class, taking the bus, or hanging out in a coffee shop.
With that said, the noise cancellation is decent enough to block out most ambient sounds, but you have to be listening to music at a moderate level. If there's no music playing, you can hear the slight hiss of the white noise which bothers a lot of people, but some people get used to it. I still think Bose's Quiet Comfort series reigns supreme when it comes to pure noise-cancellation.
Some of the other features include a built-in rechargeable battery, so you can just charge these via USB like you do with your phone. No need to worry about carrying around triple A batteries like most noise-cancelling headphones still use today. Also, there is a built-in battery indicator on the side that shows you how much juice is left through 5 LED dots.
There's also still the option to connect these headphones via cable like the original Beats Studios, in case you want to save battery.
These headphones do fold up to save space, and you can store them in the included hardshell case which is pretty solid, but I just wish had a compartment to hold a cable or two.
Style is another strong suit of the Beats, and they are one of the few pairs of over-ear headphones that don't make you look like a complete dork out in public. Opting for the beautiful Matte Black finish conceals the Beats logo if you don't want to announce to the world you're a slave to the Beats brand.
Last but not least, I do have to make a comment about the packaging, which I know a lot of people don't care about, but I have to say, unboxing the Beats felt a lot like opening up an Apple product. For anyone who's ever bought a Macbook or iMac computer, I'm sure you can agree that the unboxing is quite an event that was obviously designed to "wow" the consumer and make them feel special. It's the same with these Beats. The packaging is absolutely spectacular, and whether you like it or not, it does make a lasting effect on consumers.
2. Build Quality
Honestly, I think these headphones have terrible build quality for the price, and this is the weakest category for the Beats Studios. For those who don't know, the original Beats headphones back in 2009 were breaking left and right with snapped headbands and such. So with the revised Studios, Beats implemented a metal band to reduce broken headphones.
The only problem is, 90% of these headphones is still made of cheap plastic, and it feels cheap when you hold it in your hands. Holding one earcup, the headphones wobble around and do not inspire any confidence whatsoever.
Granted, I've seen some favorable stress tests of the new metal headband but I still wouldn't push it.
3. Comfort
Comfort is going to be a subjective category for these headphones since everyone has different head and ear sizes, but for me, these are some of the more comfortable headphones on the market. I've used these for a couple of hours at a time and there's only some slight pain from the top of my ear being pressed on.
Also, they can get pretty sweaty due to the closed-back design and pleather earcups, especially if you're walking around for a while.
With that said, these headphones are definitely more comfortable than a majority of the studio monitor headphones such as the Audio Technica ATHM50s, since these don't clamp as much on the side of the head. Also, there's very little headband pressure on the top of the head which is a plus.
4. Sound
Now for the most controversial category of them all… the sound. I've already explained that the Beats Studio Wireless should be looked at for its features and overall package, but there will always be the people who only care about pure performance.
Now performance is subjective since some people are looking for flat, clinical accuracy, while others are looking for a fun, lively sound.
Make no mistake about it, these are definitely "fun" headphones that attempt to recreate listening to music at something like a loud concert or through a car stereo with a couple of subwoofers, and a lot of that can be attributed to the built-in headphone amp that boosts the sound almost unfairly compared to traditional headphones without an amp.
The bass is super punchy but is a lot more toned down and much more detailed compared to the original Beats headphones which I so hate. The reason why so many people love Beats is because they do sound decent for the modern pop and hip-hop music of today, which is so focused on thumping bass for the club and the radio.
On the other end of the spectrum, the treble is obviously pushed forward to provide some artificial detail in the highs, while leaving the mids a bit recessed. Overall, the frequency response of the new Beats is a lot more balanced than the originals, and I must admit they do provide an enjoyable listening experience.
Now as far as accuracy is concerned, you're better off with a pair of studio headphones like the Sony MDR-7506, which have been an industry-standard forever.
Let me just warn you that accuracy does not always result in the most enjoyable listening experience (!!!), as a lot of these studio headphones don't provide the punchiness of the bass that fun headphones like the Beats creates.
Lastly, the sound through the Bluetooth wireless favors surprisingly well compared to the wired version. I expected a noticeable drop in quality when listening through Bluetooth, but I was actually really impressed that the quality didn't really seem to drop at all when listening from my phone's Bluetooth. The only difference is you might have to turn the volume up a couple notches to match the volume of the wired version.
5. Bottom Line
Bottom line, if you're looking for pure performance and clinical accuracy, then you should already know by now to look elsewhere. But if you're in the market for a Bluetooth wireless headphone with active noise cancellation and a fun sound signature that excels for modern genres of music, the Beats Studio Wireless definitely fits the bill. Although there aren't many direct competitors out yet which provide this much of an all-in-one package, it's obvious that the Beats are still pretty overpriced.
The Beats Studio Wireless retail for a whopping $379.95, but I was able to find some great deals on Amazon from $341 to as low as $270. I'll include those Amazon links in the links below if you're interested in picking up a pair.
Last but not least, please don't forget to Thumbs Up and Comment if you enjoyed this video. If you have any questions at all about the Beats Studio Wireless, leave it in the comments below.
Order the Beats Studio 2.0 Wireless HERE for the cheapest price available (Do NOT pay retail!):
Beats Studio Wireless Bluetooth Headphones: http://amzn.to/1JhKsyy
Related Posts