Sony MDR-1000x: An HONEST Review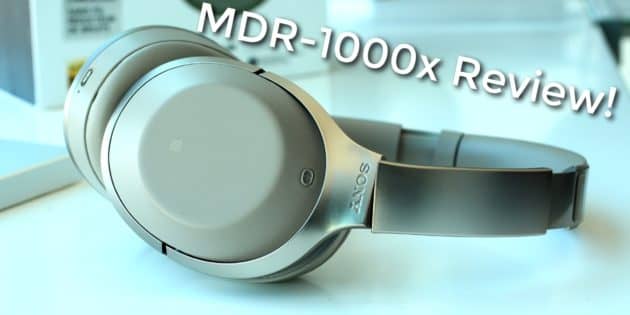 Order the Sony MDR-1000x HERE for the lowest price available (Do NOT pay retail!):
Disclosure: These links may provide a discount and in return, give us a commission in order to run the website 🙂
Sony MDR-1000x - Black (Amazon): http://amzn.to/2i0cQiZ
Sony MDR-1000x - Beige (Amazon): http://amzn.to/2il2fLK
If you're looking for the best Bluetooth wireless headphones today, then you need to take a look at the Sony MDR 1000x. These headphones are Sony's latest top-of-the-line wireless headphones, and are becoming an increasingly popular competitor to the Bose QC35 and Sennheiser PXC 550 . Find out how the MDR 1000x stacks up in my HONEST, in-depth review, without any of the hype. Stay tuned.
Hey what's up guys! ODi Productions here from RecordingNOW.com, your #1 source for high-quality headphone and audio gear reviews.
After much demand, I finally decided to pick up a pair of Sony's new MDR 1000x to see what the hype was all about. I've heard nothing but praise for these headphones, so I came in with high expectations. Without spoiling too much, the MDR 1000x does not disappoint.
Currently retailing at around $400, the MDR 1000x competes directly with fellow premium Bluetooth headphones such as the venerable Bose QC35 and Sennheiser PXC 550, which both were released before the Sonys. Perhaps Sony was waiting to see what the competition would put out before going for the killing blow, but we'll find out throughout this video.
Top-of-the-line Bluetooth headphones of today boast quite the pricetag, but they come with all the bells and whistles for enjoying high quality sound well into the future. And if you ask me, quality headphones are a relatively affordable way to experience quality music and sound without having to buy an expensive speaker system or home stereo for instance.
With that said, let's take a deeper look at the MDR 1000x by category.
1. Features
When it comes to features, the MDR 1000x has got it all. It has the latest AptX Bluetooth capability, for highest quality wireless streaming.
Battery life is advertised at a whopping 20 hours in wireless mode, which is excellent as well.
From my experience, the headphones connect flawlessly with both my iPhone and Macbook Pro. Pairing happens in a cinch, and once initially paired, the headphones pair up automatically when you turn them on. From my experience, there is no audible delay when using the headphones with my computer, which is awesome.
The headphones also have a built-in mic for high quality wireless phone calls.
Like the PXC 550 and Parrot Ziks, the Sonys include touch controls on the right earcup to control your music. By tapping or swiping your fingers, you can pause your music, skip to the next track, increase or decrease volume levels, and more.
One very cool feature that sets the MDR 1000x apart is the ability to hear your surroundings with one simple motion. If you cup the right earcup with your palm, the music tunes out and all of a sudden your outside environment plays through the earcups.
It sounds kinda crazy at first, but basically it's as if a microphone amplifies your outside surroundings. When you speak, you can hear your own voice amplified in full detail, which is really trippy and fun to play around with.
I must say that I love the flawless execution of this feature, and the convenience of being able to hear your surroundings by simply cupping the earcup.
But easily my favorite feature of these headphones is the active noise-canceling, which is extremely effective without giving the strange pressure sensation like the QC35s.
The noise-canceling really reduces the outside world to a whisper, allowing you to listen to your music uninterrupted.
Almost equally-important is the ability to turn noise-canceling OFF, unlike the Bose QC35. Furthermore, the Sony's have an ambient sound feature which allows varying levels of outside noise in, mixed in with the music.
Last but not least, if you missed my unboxing video, the Sonys come with a beautiful two-tone hardshell case that looks and feels fit for a $400 headphone, along with a thick wired cable matching the headphone color, and an airplane adapter for frequent flyers.
2. Style
Moving onto style, I don't think it's any secret that the MDR-1000x is quite a handsome headphone.
Opting for this gorgeous beige grey colorway, you can really see how Sony blended various premium materials together such as textured soft-touch leather, shiny satin finished plastic, and a brushed metal headband.
The fusion of these materials is done quite tastefully, and looks ultra-premium in comparison to other headphones.
If I had one minor gripe with the styling, it's that the earcups are quite large and can stick out a bit when worn. Sony's smooth styling does help to mitigate the bulkiness of the earcups.
These headphones are also currently available in an all-black colorway for those who prefer a more subtle look as well.
3. Comfort
Now for the category of Comfort, which is an underrated category in my opinion. I believe the best headphone is the one you're willing to wear for hours each day. If they aren't comfy, then you'll resort to using earbuds or laptop speakers.
As for the Sony MDR 1000x, they are a comfortable headphone period, and I have no trouble wearing them for hours at a time.
Now it's important for me to mention that they are technically heavier and bulkier than both the QC35 and PXC 550, which I would rate both as slightly more comfortable.
If I had to pick one category where the Sony's slightly falter, I would choose comfort, but only when compared to the competition. Alone, these headphones are more than comfortable enough for hours of daily usage.
4. Build Quality
Build quality on the Sony's is apparent the moment you pick these headphones up from the case. They are larger and slightly heavier than the competition, and just feel very solid to the touch.
The materials are all premium with very quality soft-touch leather draped around the earcups, and a strong metal headband up top. There is some plastic covering the external side of the hinges and headband, but I feel this is more for show as metal is reinforced beneath.
Last but not least, these do come with a full 1-year warranty for extra peace of mind from any product defects.
5. Sound Quality
Finally we arrive at the much-anticipated category of sound quality.
Sony is no stranger to professional audio, as they have quite a decent history in professional recording studios with their MDR 7506 headphones, and boutique microphones like the C800g which retails for over $10,000.
When it comes to the MDR-1000x, Sony did not pull any punches when tuning these headphones.
From my initial listening, I was immediately impressed by the clarity and separation of these headphones, all the instruments and vocals are crisp and easily distinguishable from one another.
You can really hear your music in layers, pinpointing each sound effortlessly.
The bass is extremely fun in these headphones, and is full and punchy and powerful. I never felt that the bass was lacking, which just made listening to modern music that much more exciting. Sony does have experience making bassy headphones such as the XB line, so I'm glad that that translated into the low-end of these headphones.
It's really hard to criticize the sound quality of the Sonys, but if I had to make a complaint it's that the ultra-detail of the high end can be quite sharp and fatiguing at times when listening at louder volumes. Of course, this depends on the song and level of volume, as the headphones aren't as fatiguing at casual listening volumes.
Overall the MDR-1000x is a joy to listen to. They sound extremely musical and exciting for pretty much any genre you throw at it.
6. VERDICT
Bottomline, the Sony MDR-1000x has very few flaws, if any at all. From the premium look and feel, to the superb sound quality, Sony did not pull any punches when developing the MDR-1000x, and it's clear that they designed these headphones to surpass any of the competition which came before it.
If you're the type of person who has to have the absolute best, then I suggest you click the link in the description and order these right now. I'm not kidding.
Very few headphones can justify a $400 price tag, but I would buy the MDR-1000x again in a heartbeat.
Once again, If you're ready to experience Sony's MDR-1000x, click the link in the description to purchase your pair for the lowest available price today.
Order the Sony MDR-1000x HERE for the lowest price available (Do NOT pay retail!):
Sony MDR-1000x - Black (Amazon): http://amzn.to/2i0cQiZ
Sony MDR-1000x - Beige (Amazon): http://amzn.to/2il2fLK
Related Posts