Sennheiser PXC 550: An HONEST Review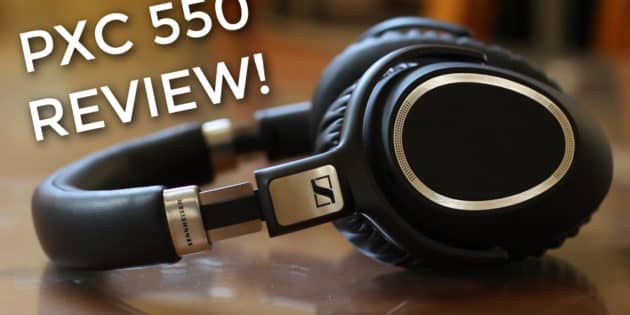 Order the Sennheiser PXC 550 HERE for the lowest price available (Do NOT pay retail!):
Disclosure: Affiliate links on this page may provide a discount and in return, give us a commission in order to run the website 🙂
Sennheiser PXC 550 (Amazon): http://amzn.to/2eulr9c
Are you in the market for a premium, Bluetooth wireless headphone with active noise-cancelation?
If you're considering headphones such as the Bose QC35, then you need to take a serious look at Sennheiser's brand new PXC 550, a high end headphone with unparalleled features and elite sound quality.
These headphones hook up to an app that let's you customize the sound with limitless possibilities. You can control your music by swiping your fingers like a smartphone.
Made from premium materials and designed to be one step ahead of the competition, the PXC 550 is a serious contender with a serious price tag.
The question is, is it worth it? Stay tuned to hear my honest answer, without any of the hype.
Hey what's up guys! ODi Productions here from RecordingNOW.com with yet another honest headphone review. Today's review is a special treat, as we get to take a deep look at the brand new Sennheiser PXC 550, a Bluetooth-wireless active noise-canceling headphone which is aimed to compete directly with the flagship Bose QC35 and other premium Bluetooth headphones. The PXC 550 is priced at just under $400 retail, about $50 more expensive than the QC35.
Designed for both lovers of high-end audio, and frequent travelers who need a real-world solution for music on the go, the PXC line has seriously stepped up its game with the new 550.
Boasting more features than any other competitor, along with the famed Sennheiser sound performance, the PXC 550 commands respect and needs to be seriously considered if you're on a search for the best Bluetooth headphones available today.
I've been using these headphones for the past couple weeks now, testing everything from the built-in EQ settings, to the 2-stage noise-cancellation, to battery life, and I must say, without revealing too much before the review, Sennheiser has really outdone themselves with this product.
One last thing before the review, I unboxed these and shared my initial impressions on a previous video which I'll link to here. Check it out if you have time afterwards.
Now without further ado, let's jump into the honest review!
1. Features
To start off with the features, I was surprised by the sheer number of features that these headphones have. Honestly, it's more features than any other headphone I've tested before. Also, some of these features are completely unique to the PXC 550, and at times I swear the PXC 550 can read my mind, but more on that in a minute.
Now since there's so many features, I figured I'd give you guys a list.
- Bluetooth 4.2 wireless technology which is said to be 250% faster than previous Bluetooth technology. This results in higher quality than ever before. Based on my testing, the wireless sound quality is on par with just about any wired headphone in its price range.
- Along with the Bluetooth, the headphones feature 3 built-in mics which coordinate in unison to deliver an unparalleled hands-free calling experience, effectively cutting out ambient noise while delivering your voice in full quality.
- The next feature is 2-stage noise-cancelation. There are not one, but 2 levels of noise-cancelation depending on how adaptive or powerful you want the noise-cancelation to be. There's also an option to completely turn noise-cancelation off, while still being able to listen to music. This feature is a welcome addition that some competitors are lacking.
- As to the quality of the noise-cancelation, I have to admit that I wasn't expecting too much after having used the Bose QC25 and QC35 for months, which both have excellent active noise cancelation. Much to my surprise, the PXC 550 has very good active noise-cancelation, and in my honest opinion it's comparable to Bose's QC line. Now I still think Bose has the most powerful noise-cancelation, but it comes at the cost of giving your head a strange sensation. The PXC 550 was much less aggressive and smoother in implementing its noise-cancelation. Also, I love how I'm able to turn the ANC off while still listening via Bluetooth, something which you can't do with the QC35.
- Another unique feature of the PXC 550 is that the controls are touch and gesture-based on the earcup, almost like a laptop's trackpad or smartphone screen. Swipe up or down to raise or lower the volume, tap once to play or pause the current song, and swipe forward and backward to skip to the next song, or restart and rewind to the previous song.
- Perhaps one of the biggest features of these headphones is the integration of Sennheiser's app called CapTune.
Basically what this app does is let you control and tweak your PXC 550 headphones with a custom Equalizer, and change your settings and preferences such as activating Smart Pause, which will actually pause your music when you take off the headphones or even just remove a single earcup.
Smart Pause is one of those little features that seems trivial at first, but makes the headphones seem that much more futuristic.
Another futuristic feature is how you turn the headphones on and off. When I first picked up the headphones, I was confused because I didn't see a power button, but when I unfolded the earcups, the headphones were suddenly turned on.
It was then that I learned that when you flip the right earcup, this acts as a power switch. I have to admit that I was hesitant at first because I, like many of you, are so used to flipping a switch or pressing a power button.
But the more I used the headphones, the more I enjoyed the sheer convenience of skipping one more unnecessary step. Again, this may seem like a trivial feature, but it's the little things that really add to the user experience and set this headphone apart from the others. You can really tell that Sennheiser designed these headphones for the future in mind, and to be in a league of its own.
- Battery life is quite excellent at an advertised 30 hours per single charge, which is 10 hours more than the Bose QC35, or a 33% increase.
Now, one important note is that this battery life is rated with Bluetooth turned off and using the provided wired cable, also with the Noise-cancelation completely shut off as well.
Last but not least, you get all the usual accessories such as wired cable, airplane adapter, stereo adapter, and included hardshell case.
2. Style
Now that we got all those features out of the way, it's time to talk style, because looks do matter. When I first took the PXC 550 out of the box, I was more interested in the materials and wasn't exactly blown away by the overall design. The earcups are quite bulky and are unfortunately reminiscent of an egg.
These headphones came in a simple black on black colorway, with some small metal accents and brushed aluminum rings on the earcups not too different from Audio Technica's famous ATH M50x.
I do admit that, after peeling off the stickers from the earpads, the headphones started to look a lot more attractive in an understated and professional manner.
No doubt, the subtle design of these headphones is perfectly aimed at Sennheiser's target demographic, which is frequent flyers and business travelers.
3. Comfort
Moving onto the category of comfort, which should be a high priority given the target market. First off, would you believe me if I told you that these weigh less than Bose's QuietComfort 35, which has already been touted for its ultra light weight? Make no doubt about it, the PXC 550 weighs in at just 227 grams, which is over 25% lighter than the QC35 at 309 grams.
Factor in that lightweight with some seriously plush leather on both the headband and earpads, and the PXC 550 just about steals the comfort crown from Bose's QC35.
Lighter weight, more padding, and soft touch leather all add up to a luxuriously comfortable experience that is second to none.
4. Build Quality
Now you would think that with such a low weight, the PXC 550 must be extremely fragile, and to an extent you're right.
The PXC 550 doesn't feel nearly as stout as Sennheiser's Momentum line, but everything is a compromise at the end of the day.
To achieve this low weight, there is a fair amount of plastic incorporated. The good news is, the headband is reinforced with metal and the leather feels just as luxurious as any premium headphone. Seriously, the leather is so plush and forgiving that these headphones feel like a cloud.
To top everything off, Sennheiser backs these up with a gratuitous 2-year warranty that is sure to provide enough peace of mind to offset the premium pricetag.
5. Sound Quality
At last, the meat and potatoes of every headphone review, the sound quality.
For those familiar with the Sennheiser brand, sound quality isn't even a question, with popular hits like the Momentum line and the open-back HD 598s along with higher end open-back headphones from the HD line.
But considering that these headphones carry a $400 pricetag, we have to be critical when judging the sound quality of such a cost-prohibitive product.
First things first, for those who are worried that the Bluetooth functionality will negatively affect sound quality, rest assured, the latest Bluetooth 4.2 technology ensures that these are on par with most wired headphones in this price range. In laymen's terms, they sound just fine without the cable.
Now moving onto the actual sound signature, I was surprised by how powerful these headphones can sound. The bass is full and present, extending down low to provide a very satisfying thump. The highs are crystal clear with some very nice imaging and separation. The highs can be a little too present at times which is the cost of extracting so much detail from the music, but this can be fixed via the EQ.
The most surprising quality to me is that the soundstage is very decent for a closed-back Bluetooth headphone with noise-canceling. And I think I figured out exactly how Sennheiser was able to achieve this. Take a look inside the earcup, and see just how deep the earcup goes, which puts some good distance between your ear and the actual driver. One of the physical limitations of headphones is that since the driver is so close to the ear, it narrowly cuts down the soundstage.
By providing some good distance between your ear and the sound source within the earcup, more acoustics come to play which results in much improved sound stage and a better 3D-like effect with instruments and voices.
What really helps the PXC to stand out is the EQ that I mentioned earlier. Having a custom equalizer in the CapTune app allows you to sift through presets and even manually adjust the settings to carve the right sound for your music.
But truth be told, the EQ wasn't the most impactful feature of these headphones, it's actually the Effects button on the headphone itself. While the EQ allows you to boost or reduce certain frequencies, the Effects button actually adds another dimension where you can tweak certain parameters such as Boost, Spatial, Reverb, and DLC.
So the default Effect modes are Club which is best for music, Movie which is best for watching TV and Movies, and Speech which is best for podcasts and audiobooks. I have to say that by simply going through these settings, the headphones transform pretty dramatically.
Personally, the Club setting enhances the headphones so much that it's almost unrecognizable from the stock, flat sound. I should note that my comments earlier pertain to when using the headphones in Club mode, which sounded the best to my ears.
Now of course, not everyone is going to have the same preferences, which is the beauty of the PXC 550, between the custom EQ and Effects settings, you have limitless possibilities for how you want your headphones to sound.
6. Bottom-line
I have to admit that when I received the PXC 550, I was expecting a simple QC35 competitor, Bluetooth, noise-canceling, nothing more nothing less.
After really diving in and utilizing the myriad of features while still finding new ones, I am honestly impressed by the design hours that Sennheiser put into this product, really elevating it into another level of user experience. And I say experience because from the moment you pickup these headphones, to how you turn them on, change the sound, swipe the volume, it all really culminates into one unique experience.
Throw in some top tier sound quality whose sound signature can instantly mold to your favorite genre, then you start to wonder what the PXC 550 can't do.
Bluetooth is definitely the way things are heading in the near future, and for the $400 price tag of the PXC 550, you can transport yourself to that future, today.
If you're ready to experience Sennheiser's PXC 550, click the link in the description to purchase your pair for the lowest available price today.
If you enjoyed this video, please Thumbs Up, Comment, and Subscribe to my Youtube channel! Your support really helps the channel out and allows me to keep making more videos and reviews just like this video.
Last but not least, follow me on Twitter, Instagram and Snapchat for all the latest updates. My username for all 3 is @odi_productions
Order the Sennheiser PXC 550 HERE for the lowest price available (Do NOT pay retail!):
Sennheiser PXC 550 (Amazon): http://amzn.to/2eulr9c