Bose QuietComfort 25: An HONEST Review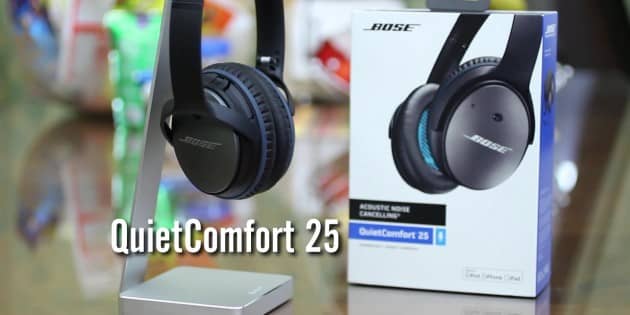 Order the Bose QuietComfort 25 HERE for the lowest price available (Do NOT pay retail!):
Disclosure: Affiliate links on this page may provide a discount and in return, give us a commission in order to run the website 🙂
Bose QuietComfort 25: http://amzn.to/1S6ew6x
Hey, what is up people? ODi Productions here with the latest top of the line headphones from Bose, the QuietComfort 25. If you're looking for some of the best noise-canceling headphones in the market, then keep watching. I'm here today to answer all your questions and give you guys my honest review, without any of the hype.
Before we jump into the review, let me just give a brief background about Bose as a brand and this particular model. So it's no secret that everyone and their mother has heard of Bose, and it's a brand that is usually perceived as expensive, high-end consumer audio. Now Bose products are definitely expensive, but the real question is, are they high-end audio in terms of sound quality? According to the AV audiophile community, Bose seems to suffer from the same fate as the controversial Beats brand, and that is, too much marketing hype and subpar sound quality for the expensive price tag.
So needless to say, I was finally excited to get my hands on a pair of their top headphones, the QuietComfort 25, which is an updated version of their best-selling headphones of all-time, the QuietComfort 15. Let's start with the name, Quiet refers to Bose's active noise cancellation that has always been one of the best in class. Second, we have Comfort, which obviously refers to how comfortable these headphones are to wear on your head for longer periods of time. So put those two together and you have the main focus of these headphones, which is noise-cancellation and comfort. Don't forget that.
So let's jump into the unboxing and discuss all the features of these headphones in more detail.
1. Features + Unboxing
The QC25's come in a surprisingly small but very neat little package. You open up the box to reveal the headphone case wrapped in plastic. Take the plastic off and you're left with a very nice leather hardshell case with the Bose logo on the front. Unzip the case and it reveals the QC25 all neatly folded in place. The QC25's earcups swivel 90 degrees to lay flat, and the hinges collapse inwards, although you can only really have one side collapsed at a time. Along with the headphones, you get a standard 3-foot cable that comes with a built-in mic and volume control, so you can use these as a hands-free headset. You also get a triple AAA battery, used to power the headphones and noise-cancellation, along with an airplane adapter jack.
As far as features are concerned, the main focus of the QC25's is noise-cancellation, which has always been Bose's bread and butter. I'm here to attest that the noise-cancellation is anywhere from excellent to mind-blowing. Flip the switch on the earcup and immediately about 80% of ambient noise just fades away. Put on some music and about 99% of ambient noise is completely gone. In fact, try to speak or sing along while you're wearing these and you can barely even hear your own voice. It's just that good. My only gripe is that these require a AAA battery to power, which seems a little outdated compared to other headphones like the Beats Studio Wireless that have a built-in rechargeable battery that you can charge via USB. With that said, the battery life is excellent and one AAA goes a pretty long way.
Aside from noise-cancellation, these are still a wired pair of headphones so no Bluetooth wireless compatibility just yet. Bose has released a wireless headphone called the SoundLink, but sound quality is still said to be superior on the QC25s.
Overall, the design of the QC25 has improved over the QC15, since Bose has added some fresh colorways that look more modern and updated. These headphones are pretty subtle for the most part, and they can even look a little plain. But if being lowkey is plus for you, then these are handsomely understated. One cool feature is that the Bose logos on the earcups have a reflective 3M material that shines at different angles.
2. Build Quality
With regard to build quality, it's not terrible, but I have to say I'm a little disappointed. For the price you're paying, there seems to be way too much plastic and they just don't feel expensive to the touch. The headband flexes a good amount, but I'd be scared to push it since all I see is plastic on the outside.
On the flip side, the ear cushions feel luxurious with some nice padded leather and memory foam underneath. Also the earcups themselves seem to feel more durable than the plastic hinges and headband.
For some peace of mind, these do come with a 1-year warranty which is about average for the market.
3. Comfort
If you're going to put Comfort in the name, then they better feel like a pillow. Actually, these feel more like a cloud. Hands down, these are the most comfortable headphones I've worn right out of the box.
One of the plus sides to being mostly made of plastic is that these are very lightweight, which means less pressure on your head overall. Also the clamping force is pretty relaxed, and the memory foam ear cushions help you forget you're wearing them.
The top of the headband is some sort of suede or cotton material that adds to the comfort as well.
4. Sound
After reading all the criticisms from audiophiles towards the Bose brand, I was really excited to test these out for myself and form my own opinion.
Upon first impressions, I definitely wasn't blown away but I still thought they were decent thanks to the wide soundstage and detailed mid to high frequencies. However, I did start to see where the critics were coming from.
Some of the biggest critiques about the QC25 are that the bass is really underpowered and that they have a pretty boring sound signature overall. I find this ironic because audiophiles usually prefer a flat response for the most part.
As a basshead myself who listens to a lot of modern hip-hop, EDM, and pop, the lows definitely seem to roll off after the lower mids or so which is a little disappointing compared to other headphones. There is some decent mid-range punch but the lows could use some extra oomph. Now I want to make it clear that the bass is there and you can still hear it, but you just won't feel the impact of it.
Now one of the positives of more toned down lows is it makes room for the mids and highs to shine. I think that the mids and highs have a very clean balance, although not as sparkly in the highs. These headphones have a nice, wide soundstage for a closed-back pair, with decent separation that allows you to hear all the instruments and sounds spaced out individually, with the vocals spotlighted right in the middle.
Overall, I think the best way to describe the sound of the QC25 is "relaxed". The music isn't going to be in your face, so if you're looking to really feel it, then look elsewhere. These headphones are very pleasing to listen to and just have played in the background while you're working, commuting, or just plain relaxing. What impresses me the most is the soundstage and the balance between mids and highs, creating a very natural sound that isn't fatiguing and just a pleasant experience overall.
5. Bottom Line
The bottom line, the more I listened to the QC25's, the more I started to really appreciate them for what they are. They're an extremely comfortable pair of headphones with powerful noise cancellation and a relaxed sound signature that is pleasing to listen to for hours on end. For me, the noise-cancellation and comfort is the real game-changer here, and I have no doubt that the average person would still be greatly satisfied with the sound quality, especially if bass-heavy music isn't your thing.
The price tag of $300 may seem like a lot to most people, but we live in a noisy world, and being able to tune it out is a luxury worth paying for.
If you're interested in picking up a pair, click the Amazon link in the description below for the lowest price available.
Last but not least, please don't forget to Thumbs Up, Comment, and Subscribe if you enjoyed this video. If you have any questions at all about the Bose QuietComfort 25, leave it in the comments below.
Order the Bose QuietComfort 25 HERE for the lowest price available (Do NOT pay retail!):
Bose QuietComfort 25: http://amzn.to/1S6ew6x
Related Posts