Beats Killer?! V-Moda Crossfade M100 vs Beats Studio Comparison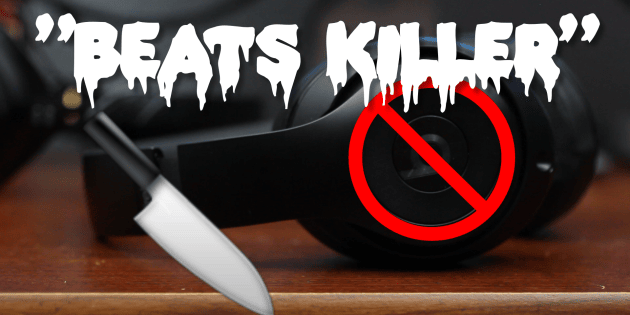 Order the V-Moda Crossfade M100 or Beats Studio Wireless HERE for the lowest price available (Do NOT pay retail!):
Disclosure: Affiliate links on this page may provide a discount and in return, give us a commission in order to run the website 🙂
V-Moda Crossfade M-100 (Wireless): http://amzn.to/22WnmXU
Beats Studio Wireless: http://amzn.to/1JhKsyy
V-Moda Crossfade M-100 (Wired): http://amzn.to/22WnnuH
Hey whatsup guys, ODi Productions here from RecordingNOW.com with an in-depth comparison review video. Okay so everyone and their mother knows the Beats brand, but most people I talk to have never heard of V-Moda. V-Moda is a much smaller audio company that has only really started to get popular within the last year, and it's good because their main focus is putting out really quality headphones all around, not just in sound quality, but style and durability as well.
Today we're looking at V-Moda's current top of the line headphone, the Crossfade M-100. From the Beats corner, we have their current top of the line which is the Beats Studio Wireless. Both of these headphones are very similar in their characteristics and target market: stylish, portable, bass-heavy sound geared towards modern music, and both come in Wireless Bluetooth versions.
Now the goal of this comparison video is to help YOU make the right purchase by presenting all the facts without any of the hype or negative bias. Chances are you've heard that Beats are super over-hyped, spend all their money on marketing, blah blah blah, and while there is some truth to that, I think we need to give them a fair shake, especially considering that this second generation of Beats is vastly improved over the first generation, which I have to admit was complete garbage and is mostly responsible for their bad reputation.
With that said, we're going to run through all the possible categories and choose a winner from each, then at the end we're going to reveal our overall winner which represents the best value for the money.
1. Features + Practicality
First we're going to talk about features and practicality, to see how good each headphone is on a day-to-day basis and wearing out in the real world. So both of these headphones come in Bluetooth wireless versions, which is a major key for some people, as it gives you more freedom and no wires to get tangled up. Also, it's important to note that the Wireless headphone market is a lot smaller than the wired headphone market, which makes these headphones more competitive.
If you're wondering whether there's any performance loss for being Wireless, the good news is that there is zero loss in quality thanks to the latest Bluetooth technology. One thing to note is that the wireless version of the V-Moda's has a slightly tweaked sound signature compared to the wired version. Also, both headphones can be plugged in with a cable to make it wired.
Both headphones in their wireless versions come with a built-in rechargeable battery, although the wired V-modas don't need any batteries.
One feature which sets apart the Beats from V-Modas is that the Beats come with Active Noise-Cancelation. This reduces outside noise by a good margin so you can hear your music fully, even outside in the real world. With that said, the V-Modas have excellent passive noise isolation, which also blocks out a good amount of outside noise. I found that with either headphone, music has to be playing at a decent volume to really take effect, so there isn't much advantage to Beats' noise-cancellation, which also creates a rather annoying hiss when no music is playing.
Both of these headphones fold up to save space and come with nice hardshell cases. It's really important to note that the Wireless version of the V-Modas do not fold up, but still come with a hardshell case.
So as far as features and practicality is concerned, it's a clear draw. Both headphones perform amazingly in the real world, thanks to Bluetooth wireless, blocking out most outside noise, and being able to fold up in a case and throw into a backpack.
2. Style
The second category of style is going to be subjective of course, but these 2 are easily some of the better-looking headphones on the market today. A big issue with a lot of these over-ear headphones is that they can look big and goofy while wearing, but these headphones have a pretty sleek profile that won't embarrass you in public.
The Beats come in a wide variety of glossy and matte finish colors. The matte colors are especially beautiful, with this matte black colorway representing arguably one of the most stylish headphones you can buy today. On the other hand, the V-Moda's only come in mostly black or white colorways, but one really cool thing is that you can customize the metal plates on the side in any color and even any logo you want. With that said, the V-Modas have this hexagon theme that can be a bit polarizing.
So for style, it's a close one but we're going to have to give the nod to the Beats for just having a cleaner overall look, especially in this matte black colorway.
3. Durability
For the category of durability, if you ever get a chance to hold both pairs of headphones, you'll know that it's really not much of a contest. Durability concerns have plagued Beats since the first generation, and although they made improvements with the second generation by adding a stronger metal headband, the Beats honestly feel cheap and are covered mostly in plastic.
On the other hand, the V-Moda Crossfade M100s are actually military-grade quality, and that's no exaggeration. The V-moda's are mostly made of metal and feel solid to the touch. The Beats just feel flimsy in comparison.
For peace of mind, both headphones come with a warranty for mechanical defects, although V-Moda trumps Beats once again. Beats is backed by a limited one-year warranty from Apple, while V-Moda is backed by a 2-year warranty and something called the "Immortal Life Program", which lets you trade in your old V-Moda's for a newer pair at 50% the cost.
For durability and peace of mind, the V-Moda wins by a longshot.
4. Comfort
Comfort is the next category and I can't stress how important this one is. After all, it doesn't matter how good a headphone performs if you can't stand wearing it for more than an hour, or even less. So right off the bat, the Beats are the more comfortable headphone right out of the box, and you can wear them for about an hour before they start to cause discomfort. On the other hand, the V-Modas are very uncomfortable in stock form. The earpads are too thin and the clamping force is pretty strong which creates pressure. Now there is a solution, V-Moda sells XL Memory Cushions which are shown on this pair, and they completely transform the comfort to some of the best levels of any portable headphone. A complete must-have for any V-Moda owner.
So for comfort, Beats gets the win right out of the box, but the V-Moda's can be made much more comfortable with the XL Memory Cushions.
5. Sound Quality
And now for the final category of sound quality. Both of these headphones follow a very similar sound signature known as a "V-shaped" frequency response. This means that the bass and the highs are emphasized, while the mid frequencies are scooped out.
Let me start off by saying that the Beats are a decent-sounding headphone, and they do not deserve all the flak that they've been getting. You have to realize that the average person is used to listening to $10 earbuds or even worse, from crappy laptop speakers, so any higher-end headphone is going to satisfy the average consumer. The Beats have a somewhat raw sound in that it's focused more on power and bringing the vocals really up-front rather than balance. Beats also has something of an unfair advantage in that they have a built-in headphone amp, which provides a really consistent sound quality no matter what the source is. What this considerably louder at the same level than other headphones.
Now with that said, you're going to have to turn up the volume a lot more on the V-Modas to get them to the same level as the Beats, but once you do, the V-Modas start to show an extra level of refinement and detail. Both headphones have an emphasis on bass, and while they actually do sound similar back to back, it's over time that you start to hear that extra layer of detail in the V-Modas. With the V-Modas, you can hear that extra echo as it fades into the background, and the separation allows you to hear and pinpoint each individual instrument and voice, creating a 3D effect.
For Sound quality, it probably won't come as a surprise that the V-Modas are the better-sounding headphones with better balance and detail, but it isn't by a huge landslide as a lot of people would think.
6. WINNER
Now before choosing a winner, we have to look at value based on current market prices. It's actually a bit of a shock, but the Beats are actually quite a bit cheaper based on today's prices. The Beats Studio Wireless originally retailed for a whopping $379, which is about as overpriced as it gets. But today, you can pickup a brand new pair for as low as $240 to $260. In comparison, the V-Moda Crossfade M100 Wireless version, clocks in at about $300. The Wired version of the V-Modas is available for about $250, whereas the wired Beats Studio 2.0s can be had for as low as $180. So it's interesting that for once, Beats are actually the more affordable headphones, but are the V-Modas worth the extra pricetag?
I sure think so, which is why we're crowning the V-Moda's as the winner in this comparison. Simply put, the V-Modas beat the Beats at their own game, taking stylish portable headphones to the next level with audiophile sound quality and rock-solid durability. Based on today's prices, the Beats aren't as bad of a choice as they used to be a year or two ago, but if you can afford it, I would upgrade to the V-Modas any day of the week.
If you're interested in picking up either of these headphones for the lowest prices mentioned in this video, click the links in the description below to get your pair at a discount so you can save dat money.
Order the V-Moda Crossfade M100 or Beats Studio Wireless HERE for the lowest price available (Do NOT pay retail!):
V-Moda Crossfade M-100 (Wireless): http://amzn.to/22WnmXU
Beats Studio Wireless: http://amzn.to/1JhKsyy
V-Moda Crossfade M-100 (Wired): http://amzn.to/22WnnuH
Related Posts