Best Audio Interface for Vocals Under $100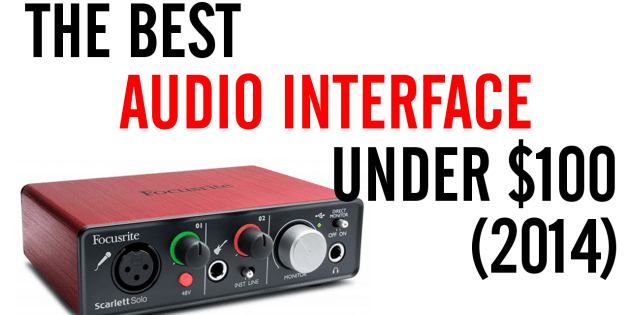 Order the Focusrite Scarlett Solo HERE for the cheapest price available:
Disclosure: Affiliate links on this page may provide a discount and in return, give us commission in order to run the website 🙂
Focusrite Scarlett Solo Audio Interface: http://amzn.to/1wu0Mpx
Hey guys, ODi Productions here with a recommendation video on the best audio interface for vocals under $100 for 2014. If you're just getting started with recording, you'll need an audio interface to connect your microphone to your computer. I've tracked down the top audio interfaces under $100 that will give you the best quality for the money and decided on one.
So without further ado, the best audio interface for vocals under $100 is…
Focusrite Scarlett Solo - $99.99
Source: notreble.com
This USB audio interface from Focusrite was actually just released this year, but is based on their extremely popular Scarlett 2i2 audio interface. The Scarlett 2i2 has been one of the best budget audio interfaces at a price tag of $149.99. The only difference between the 2i2 and the Solo is that the 2i2 comes with two microphone inputs, whereas the Solo only comes with one. If you're just recording vocals or a single instrument like a guitar, the Solo will be all you need to get the job done.
The Solo is based on the popular Scarlett 2i2 model shown above.
The benefits of the Focusrite Scarlett Solo include:
+ Focusrite microphone preamps built right into the interface. The high-quality factory preamps in the Solo help your recordings to sound crisp and clear.
+ Save $50 and get the same audio quality as the Scarlett 2i2.
+ Connects via USB so you can start recording right out of the box.
+ 48V phantom power to power up any condenser microphone.
+ Separate XLR and DI inputs so you can plug in a condenser microphone and a guitar.
+ RCA Monitor outputs in the rear to connect studio monitors in the future.
+ Light rings around volume knobs turn red when recording volume is too high. Pretty cool.
+ Overall high-quality and compatibility: You can upgrade your microphone in the future and still use this same interface to get professional-quality recordings.
If you're ready to start your own home studio and record professional music on a budget, click the link below to order THIS audio interface for the cheapest price available.
Order the Focusrite Scarlett Solo here for the cheapest price available:
Focusrite Scarlett Solo Audio Interface: http://amzn.to/1wu0Mpx